Ionic Foot Detox Spa
Today we are exposed to the greatest toxic load in the history of our planet and ongoing periodic detoxification is essential to maintain health and avoid disease. The PediTox, in combination with a healthy, low-stress lifestyle, provides a thorough and efficient way to maintain high energy levels and long-term wellness.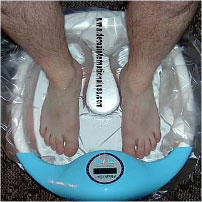 We believe the PediTox detoxifies the body more effectively and faster than any herbal or fasting protocols, with little or no stress to the patient. Used properly, the PediTox provides a comfortable and relaxing way to rid the body of toxins without precipitating healing crises. Your confidence in the unit will grow, because disease, surgeries and many medical procedures leave the body weak and toxic, PediTox detoxification treatments may prove to be essential to your ongoing health.
A detox foot spa treatment detoxifies and produces an improvement in general well being and may be used as a preventative treatment. This amazing new treatment involves placing the feet in a "foot spa" of warm water, which holds the detox unit. A highly sophisticated "array" causes ionisation of the water and can help re-balance electro-magnetic forces in the body.
The unit causes electric dialysis by producing electromagnetic oscillations in the water. The colour and consistency of the water may change due to the release of unwanted toxins through the 2000 pores on the soles of each foot . Part of the colour change is also due to the corrosion of the array during the treatment and chemicals and impurities already occurring in the water.
The toxins in our bodies will look the same as the toxins predominant in a specific area; however, there will be more toxic particles in the water with feet in it. We have also found that a person's detoxification session will override the geographical toxicity of the water. Based on EAV (Electro Acupuncture by Voll) testing, the following table shows what we believe the colors in the water to represent: