Age Management
Age Management is a present-day reality. People are tuning in to their body and its ability to repair itself and to stay younger longer. Through healthy eating habits and lifestyle we are able to keep our body younger and healthier.
The Cirrus Energie 900 Age Management System combines the application of various treatment modalities to control and correct age-related problems.
As we age, our cells become progressively less effective and, as a result, simple tasks such as climbing stairs become increasingly more difficult. Our cells, much like the rest of our body, experience a decline in energy. A cell's ability to maintain its natural functions becomes gradually impaired. Deterioration takes place in three distinct skin layers: the epidermis, the dermis and the muscle tissue beneath. Visible effects include: loss of skin tone, loss of elasticity, a reduction in collagen production and in dermal layer density, wrinkles and sagging muscles.
Treating these imperfections is a multi-layer challenge. The outstanding results of the Cirrus Age Management program are based on Kinetic Bio Stimulation which, simply put, is a process that transfers energy directly to the cells. Research has in fact shown that tissue can be stimulated and, in some cases, reprogrammed to regain its natural, youthful functions.
Fines Lines
Wrinkles
Sagging Skin
Imperfections
Uneven Skin Tone
Stretch Marks
The Kinelase program is based on traditional principles of Chinese medicine and the importance of establishing and maintaining proper balance. The light that is emitted during treatment closely resembles the light created by our DNA when transmitting and receiving vital information. The Micro-Currents that are simultaneously applied stimulate acupoints connected to wrinkles, relaxing facial tension and resulting in a more youthful appearance.
Ultrasonic energy is transferred to the tissues creating vibrations similar to the natural vibrations produced by our cells. Not only does this process provide all the benefits of a cellular massage but it also has an important oxygenating effect. Ultrasonic frequencies are also used during treatments to infuse topical antioxidants into the skin to help eliminate the negative effects of free radicals. Kineson increases cell performance and energy, oxygenating the skin from within resulting in a radiant and even skin tone broken.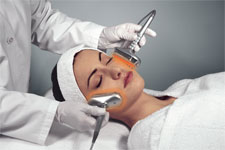 Micro-Currents are combined with LEDs at 640 nanometers to produce a visible lifting effect. The red light spectrum triggers a wave of energy that stimulates the function and repairing action of fibroblasts. Micro-Currents retrain muscle tissue into reassuming their original tone thereby tightening facial contour and diminishing the appearance of wrinkles.