Chocolate Body Wrap
A Mexican legend tells that the Aztec God Quetzalcoatl owned a huge treasure made up of all the world riches, among others plenty of cocoa trees. In his cherished garden, as act of love, he taught men how to grow the beautiful and vigorous tree. From this gift, Dolci Belezze created its new natural based product line with a smattering of soft fragrances of chocolate and vanilla. Cocoa beans have a very rich biochemical composition: they contain more than eight hundred molecules with hydrating, bracing, regenerating and vitalizing properties. Cocoa is a source of mineral salts, iron, magnesium, phosphorous, potassium and calcium, vitamins and proteins. It contains and active principles such as polyphenols, anti-oxidants and anti-radicals; flavonoids which protect blood-vessels exceptionally; and stimulants theobromine and caffeine. Cocoa has energizing and reducing substances and is an active source when used in cosmetic and aesthetic applications.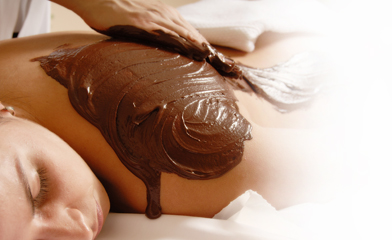 Body wraps are extremely therapeutic spa treatments. Your skin is very porous and absorbs almost anything that comes in contact with it. These substances (good and bad) get into your bloodstream and have a real affect on your body and your health. This property of skin is the reason we use organic and natural products whenever possible. A wrap is a method of intentionally delivering a therapeutic dose of natural products into your system. Each wrap has a different purpose and has different effects on the body. Wraps are also very relaxing.
The chocolate body wrap is a mineral rich sea clay infused with the essence of cocoa. The combined benefits detoxify, tone, soften the skin and uplift you with the aromatic characteristics of high-quality chocolate.
Chocolate is very moisturizing and softens the skin
Smoothes the skin and leaves a luminous glow
Cocoa contains glycerides which deliver moisturizing lipids and fats which plumps out wrinkles
Detoxifies the pores of the skin
Firms and tones the skin
Smell is a most powerful evocative sense, stimulating memory and emotions. The scent of chocolate stimulates your "happy feeling" endorphins. These feelings of well-being and relaxation tend to increase fat reduction
Chocolate lovers will receive great pleasure indulging in a Chocolate Body Wrap, increasing your sense of well-being
Chocolate contains over 300 different compounds some of which can have a significant impact on ones health and beauty
Theobromine, a substance similar to caffeine, stimulates the circulatory system and produces a slimming effect on the body
Magnesium, potassium and calcium have a calming effect, thus reducing stress
Polyphenols, antioxidants that thwart free radicals which are responsible for aging